About | Bio
John Manzella is a world-recognized speaker (live and virtual), author and nationally syndicated columnist on global business, trade policy, labor, and the latest economic trends.

His valuable insight, analysis and strategic direction have been vital to many of the world's largest corporations and associations preparing for the business, economic and political challenges ahead.

John's views have appeared in The Wall Street Journal, New York Times, Chicago Tribune, Bloomberg, NPR, Newsday, Houston Chronicle, Denver Post, and other publications in China, Singapore, Mexico, and across the globe.

His books include Global America: Understanding Global and Economic Trends and How To Ensure Competitiveness, Grasping Globalization: It's Impact and Your Corporate Response, and Mexico & NAFTA: The Real Impact, among others.

John is founder of the ManzellaReport.com, a premier source for global business and economic analysis, and Manzella Trade Communications, a public affairs, publishing and consulting firm.


John also is Chair of the Upstate New York District Export Council, a position appointed by the U.S. Secretary of Commerce, Chief Strategy Officer of Ignition Life Solutions, a global enterprise risk management consulting firm, former Executive Director of goTRADE New York, an advocacy coalition sponsored by the Washington, D.C.-based Business Roundtable, and former President and CEO of World Trade Center BN.

*Diagnosed with dyslexia in first grade, John also offers motivational presentations to children with disabilities.


John Manzella discussing tariffs, decoupling and America's relationship with China at a
Trammell and Margaret Crow Foundation
Trade Policy event with
Dr. Elizabeth Economy
and moderator
Richard Fischer
.
FEATURED VIDEOS | JOHN MANZELLA
Recent trade battles with China and other countries have reduced trade flows. But this drop is small compared to what's ahead. In turn, many argue that globalization will soon be dead. Globalization isn't dying, it's evolving, and existing trends are accelerating. This video provides analysis of protectionist trends, how digital technologies and automation are transforming globalization, strategies companies and workers can implement to mitigate risks and seize opportunities, what's ahead for China trade and U.S. companies manufacturing there, and what companies should do to prepare for future threats or pandemics.
Latest Articles From John Manzella
Will COVID-19 kill globalization? What you need to know
Trade & Finance |

Thursday, May 14, 2020
Recent trade battles with China, Mexico, Canada, and Europe have reduced trade flows. Now, with the outbreak of COVID-19 severely impacting international commerce, many argue that globalization will soon be dead. Globalization is not dying. Rather, it's evolving, and existing trends are accelerating. American companies and workers would be wise to prepare for what's ahead.
read more...
---
The coronavirus gives Trump an opportunity to correct...
Economy |

Tuesday, March 17, 2020
President Trump's intention to persuade China to play by long-established international trade rules is commendable. But focusing on the U.S. trade deficit with China, and imposing tariffs to eliminate it, has proven ineffective. Now, the coronavirus has given Trump an opportunity to shelve that failed strategy and immediately eliminate tariffs on Chinese imports. This shot in the arm will likely be reciprocated by China, stimulate our economies, and give Trump the opportunity to chart a better course. Let me explain.
read more...
---
American capitalism: Improve it or lose it in the 2020s
World |

Monday, January 13, 2020
In 2019, the U.S. unemployment rate reached record lows while the stock market hit record highs. But not everyone has benefitted. According to a recent report by the Pew Research Center, most Americans believe the economy is helping the rich, while hurting the middle class and poor. What does this mean for the future of U.S. capitalism?
read more...
---
Don't destroy what makes America great
U.S. |

Thursday, November 14, 2019
When I crossed through Checkpoint Charlie from West Berlin to East Berlin nearly 30 years ago, the failures of former East Germany were immediately obvious. The grey unkempt landscape and dilapidated buildings looked as though that country hadn't been repaired since American and Soviet tanks faced off yards apart decades earlier in one of the most tense nuclear showdowns.
read more...
---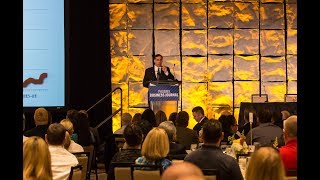 Book John Manzella now for your next speaking engagement including keynotes, roundtable discussions and webinars. His most requested topics include:
COVID-19, Economic Trends, Global Trade and What's Ahead
COVID-19 and economic trends are impacting U.S. and world growth, while complexities with China, Canada, Mexico, and Europe are creating new risks. Combined with greater levels of volatility, new destructive technologies, the energy revolution, and critical issues involving skills, automation and immigration, these issues are shaping our future. What does this mean to your business?

This invaluable program reveals global dangers, analyzes sectors, examines trading relationships, and provides insight on China's practices to help businesses understand what's ahead, reduce risk, and make better informed decisions.


Economic Trends, Globalization and the Need to Improve American Capitalism
International Trade, New Realities and Ripple Effects
Will COVID-19 Kill Globalization? What Companies and Workers Need to Do