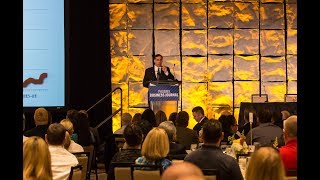 Book John Manzella now for your next speaking engagement including keynotes, roundtable discussions and webinars and. His most requested topics include:
Will COVID-19 Kill Globalization? What Companies and Workers Need to Do
Recent trade battles with China and other countries have reduced trade flows. But this drop is small compared to what's ahead. In turn, many argue that globalization will soon be dead. Globalization isn't dying, it's evolving, and existing trends are accelerating.
This thought provoking program provides analysis of protectionist trends, how digital technologies and automation are transforming globalization, strategies companies and workers can implement to mitigate risks and seize opportunities, what's ahead for China trade and U.S. companies manufacturing there, and what companies should do to prepare for future threats or pandemics.
Click to view related
VIDEO
and
ARTICLE
.
COVID-19, Economic Trends, Global Trade and What's Ahead
International Trade, New Realities and Ripple Effects
Manzella/Navarrette: A Conversation on Trade and Immigration
John Manzella | Speaking Engagements