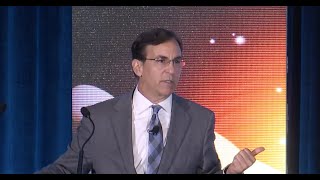 Book John Manzella now for your next speaking engagement including keynotes, roundtable discussions and webinars. His most requested topics include:
American Realities, Critical Risks and Survival Strategies
The key to American free-market capitalism lies in our ability to innovate new products and services and deliver them worldwide. This requires pro-globalization policies, an educated labor force, and an environment that incentivizes entrepreneurs to take risks that create new companies, technologies, and jobs.

However, critical risks stand in the way. (1) New technologies and globalization have tremendously improved our standard of living, but many have been left behind that support far left and right populists who may ultimately threaten capitalism. (2) Unless addressed, shifting demographics will translate into fewer consumers and worsening labor shortages. And (3) the pandemic, Russian war, and Chinese tensions have forced companies to continually assess risks that impact supply chains and globalization.

This stimulating and insightful program explores these issues, analyzes economic trends, delves into labor and Chinese challenges, and provides strategies to prepare for what's ahead.


Economic Trends, Global Trade, Labor and What's Ahead
Economic Trends, Globalization and the Need to Improve American Capitalism
International Trade, New Realities and Ripple Effects
John Manzella | Speaking Engagements