Keynotes & Corporate Seminars
Get an insider's perspective on the latest economic trends, emerging risks, and global realities. It's an ideal vehicle for trade associations and corporations needing to address the complex economic, political, and business landscape, and offers solutions to help companies succeed in today's fast-changing international environment.

John's keynotes are thought-provoking, entertaining, dynamic, and engaging, and deliberately designed to challenge your audience. Insider perspectives and entertaining stories lead the audience to their own thinking and conclusions.
See what clients are saying...
"John's presentation at the New England Relocation Association conference was the sharpest and most insightful explanation of the current macro economy I've heard. He doesn't just "talk the talk," he thoughtfully has mastered the factors that have led to where we are today, and understands what must be done to initiate growth in the United States and world economy. Importantly, he can convey these complex ideas in a straight-forward, clear and concise manner — something few of his peers can do. John is engaging, likable and pensive. Several members of our association ecstatically declared how impressed they were with his presentation. He should be on CNBC and CNN every day."
RE/MAX Partners
Brandon Tabassi
Relocation Director
See what clients are saying...
"John was a great keynote speaker for us. His material was timely, and his ability to make complex themes accessible and interesting for our audience meant many found his to be the most valuable presentation of the event. Due to COVID-19, we had to pivot from a physical to online event, and John was able to adapt to the new format very easily. From a logistical point of view, John was easy to contact and great to work with, and we're looking forward to working with him again – hopefully in person!"
Urner Barry
Nidha Jasrai
Senior Content Producer
Virtual Conferences and Seminars
Traveling thousands of miles with just a single click, John's on-camera presence can traverse the most distant monitor, laptop or tablet. Give your team insight into global risks, economic trends, critical issues, and policy positions that impact corporate competitiveness all within the comfort of your own time and space.

John's captivating personality and approach entertains while nudging people to examine their own pre-conceived opinions and regurgitated news cycle sound bites. Eliminate distance as a barrier via Zoom and other platforms and host John Manzella for your next virtual event.
Roundtable Discussions
John's roundtable discussions can be an engaging alternative to a keynote presentation. Attendees are given the opportunity to be active participants while sharing collective knowledge, best practices, insight, problems, and solutions.

Each program can be custom tailored to meet your specific needs, while providing an invaluable opportunity to answer questions, discuss global dangers, share forecasts of what's ahead, and analyze critical issues to help business professionals reduce risks and secure competitive advantages.
See what clients are saying...
John helped our leadership team crystallize the macro-level trends we are experiencing today. Never before have we seen such a labor market and John's concise and detailed slides aided us in our understanding. He allowed enough time for questions and was thorough in his responses. I'd recommend John to any group looking into current and future trends.
MasterCorp
Neil Peraza
Chief Financial Officer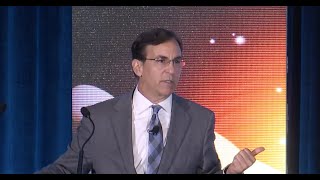 Book John Manzella now for your next speaking engagement including keynotes, roundtable discussions and webinars. His most requested topics include:
American Realities, Critical Risks and Survival Strategies
The key to American free-market capitalism lies in our ability to innovate new products and services and deliver them worldwide. This requires pro-globalization policies, an educated labor force, and an environment that incentivizes entrepreneurs to take risks that create new companies, technologies, and jobs.

However, critical risks stand in the way. (1) New technologies and globalization have tremendously improved our standard of living, but many have been left behind that support far left and right populists who may ultimately threaten capitalism. (2) Unless addressed, shifting demographics will translate into fewer consumers and worsening labor shortages. And (3) the pandemic, Russian war, and Chinese tensions have forced companies to continually assess risks that impact supply chains and globalization.

This stimulating and insightful program explores these issues, analyzes economic trends, delves into labor and Chinese challenges, and provides strategies to prepare for what's ahead.


Economic Trends, Global Trade, Labor and What's Ahead
Economic Trends, Globalization and the Need to Improve American Capitalism
International Trade, New Realities and Ripple Effects